Japan International Award for Young Agricultural Researchers (Japan Award)

Japan Award is the prize aims to increase motivation amoung young researchers who are contributing to research and development (R&D) in agriculture, forestry, fisheries and related industries in developing countries. This award was launched in 2007 and had recognized 48 young researchers from around the world by 2022. They have become one of the bridges of research collaboration between their countries and Japan.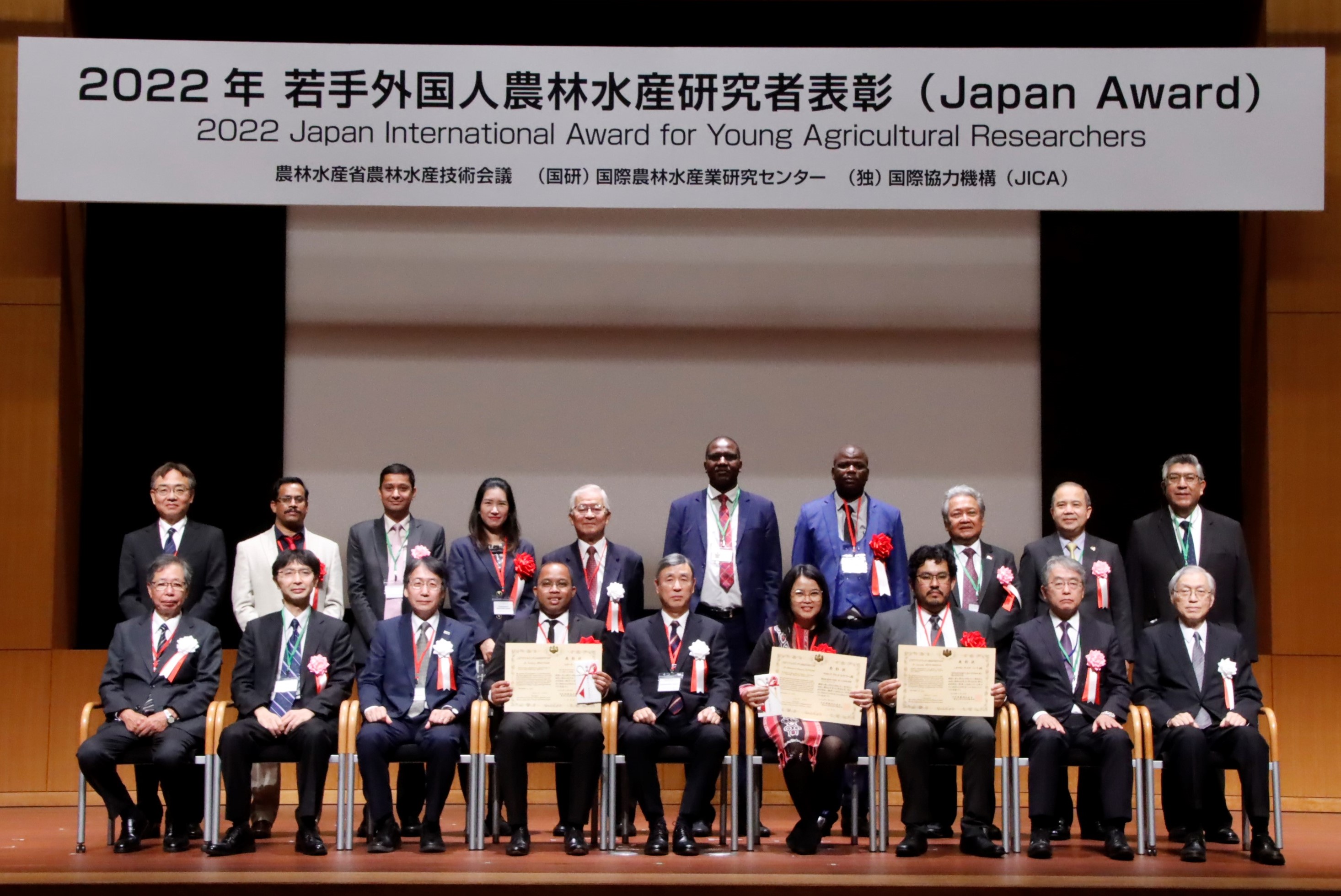 The awarding ceremony of the 2022 (The 16th) Japan Award.
*The awardees of the 2020 (The 14th) Japan Award were invited since the awarding ceremony of the 2020 (The 14th) was canceled due to the COVID-19 pandemic.
Awardees

※ The age of awardees is as of January 1, award year.
※ Professional Affiliation is as of the award.
※ The details of the research described in the outline of research achievement were prepared by the awardees themselves.

| | | |
| --- | --- | --- |
| Name(Age) | Title of Research Achievement | Professional Affiliation |
| Dr. Tovohery RAKOTOSON(39) | Addressing phosphorus deficiency in rice in Sub-Saharan Africa | University of Antananarivo, Madagascar |
| Dr. Leonardo CRESPO HERRERA(39) | Genetic improvement of global wheat, including progress for enhancing insect resistance | International Maize and Wheat Improvement Center, Mexico |
| Dr. Athanasia Amanda SEPTEVANI(37) | The Value of Agricultural Waste: Cellulose as a Building Block for Materials | National Research and Innovation Agency, Indonesia |
| | | |
| --- | --- | --- |
| Name(Age) | Title of Research Achievement | Professional Affiliation |
| Dr. Sahadev SHARMA(39) | Mangrove forest blue carbon research for effective nature-based solutions to mitigate climate change in Asia Pacific region | University of Malaya, India |
| Dr. Hala GAMAL ALI ALI EL DAOUS(30) | Establishment of a novel diagnostic test for Bovine leukaemia virus infection using direct filter PCR | Benha University, Egypt |
| Dr. James Seutra KABA(38) | Nitrogen nutrition of cocoa (Theobroma cacao L.) in intercropping systems with gliricidia (Gliricidia sepium (Jacq.) Kunth ex Walp.) | Kwame Nkrumah University of Science and Technology, Ghana |
| | | |
| --- | --- | --- |
| Name(Age) | Title of Research Achievement | Professional Affiliation |
| Dr. Saraswathipura Lakshmaiah KRISHNAMURTHY (39) | Development of salt-tolerant rice varieties through conventional and molecular breeding approaches | Indian Council of Agricultural Research-Central Soil Salinity Research Institute (ICAR-CSSRI), India |
| Dr. Kwanrawee SIRIKANCHANA (39) | Novel microbial tools to distinguish fecal pollution sources from livestock for effective agricultural watershed management | Chulabhorn Research Institute, Thailand |
| Dr. Edmore GASURA (37) | Strengthening quality protein maize resilience and utilization as nutritious food and feed in rural areas of Zimbabwe | University of Zimbabwe, Zimbabwe |
| | | |
| --- | --- | --- |
| Name(Age) | Title of Research Achievement | Professional Affiliation |
| Dr. Jacobo ARANGO MEJIA (38) | Research on tropical forage grasses to mitigate greenhouse gas emissions and combat climate change | International Center for Tropical Agriculture (CIAT), Colombia |
| Ms.MAI Thi Ngan (34) | Development of a simple, accurate, and economical diagnostic test and pooled testing system for detection of porcine epidemic diarrhoea virus | Vietnam National University of Agriculture, Vietnam |
| Dr. Rebijith KAYATTUKANDY BALAN (33) | Molecular approaches in identification, diversity and management of important insect pests in India | Plant Health and Environment Laboratory, Ministry for Primary Industries, New Zealand, India |
| | | |
| --- | --- | --- |
| Name(Age) | Title of Research Achievement | Professional Affiliation |
| Dr. Andry ANDRIAMANANJARA (38) | Organic matter dynamics in agroecosystems of Madagascar and its effective use for crop production | University of Antananarivo, Madagascar |
| Dr.Farah Fazwa Md Ariff (38) | Production of high quality planting materials of popular herbal species in Malaysia, Labisia pumila | Forest Research Institute Malaysia, Malaysia |
| Dr. Jinyong ZHANG (37) | Study on diverse micro-organisms responsible for fatal parasitic disease outbreaks in farmed freshwater fish, and development of biology-based preventative measures against the diseases | Institute of Hydrobiology, Chinese Academy of Sciences, China |
| | | |
| --- | --- | --- |
| Name(Age) | Title of Research Achievement | Professional Affiliation |
| Dr. Chandra Siddaiah NAYAKA (39) | Plant-pathogen system biology and biotechnological approaches for plant disease management | University of Mysore, India |
| Dr.Min AUNG(39) | Dairy researches on production performances and health of dairy cows, livelihoods of local farners and environmental concerns | University of Veterinary Science, Myanmar |
| Dr. Sheetal SHARMA (37) | Development of innovative approaches to enable small-holder farmers of South Asia to achieve gains in productivity and profitability through use of cutting edge Information & Communication Technologies to guide application of site-specific nutrient and crop management options | International Rice Research Institute (IRRI), India |
| | | |
| --- | --- | --- |
| Name(Age) | Title of Research Achievement | Professional Affiliation |
| Dr. Musaida Mercy MANYUCHI(32) | Production of Vermicompost and Vermiwash Bio-fertilizers from Food Waste | Harare Institute of Technology, Zimbabwe |
| Dr. Gezahegn Girma TESSEMA (36) | Novel Approaches for the Improvement of Yam Germplasm Conservation and Breeding | International Institute of Tropical Agriculture (IITA), Ethiopia |
| Dr. Alonzo Alulod GABRIEL (35) | Precision Food Processing: Establishment of Mathematical Models for Microbiological and Physicochemical Food Properties for Food Safety, Food Defense, and Food Quality | University of the Philippines, Diliman, Philippines |
| | | |
| --- | --- | --- |
| Name(Age) | Title of Research Achievement | Professional Affiliation |
| Dr. Ani WIDIASTUTI (38) | Mechanism, potency and practical application of heat shock-induced resistance | Gadjah Mada University, Indonesia |
| Dr. Viengsakoun NAPASIRTH(37) | Development and utilization of silage technique and agro-industrial by-products for cattle feed for the promotion of sustainable livestock agriculture in Laos | National University of Laos, Laos |
| Dr. Atef SWELAM (39) | Development of a cost-effective raisedbed machine for small-scale farms to improve land and water productivity in the Nile Delta | International Center for Agricultural Research in Dry Areas (ICARDA), Egypt |
| | | |
| --- | --- | --- |
| Name(Age) | Title of Research Achievement | Professional Affiliation |
| Dr. Giriraj AMARNATH (36) | Enhancing Resilience to Agricultural Flood-Risks and Adaptation for Smallholder Farmers in Asia and Africa | International Water Management Institute, India |
| Dr. HO Le Thi (39) | Allelopathy and Allelochemicals in Vietnam Local Cucumber Variety and Vietnamese Rice Cultivars | Vietnam Academy of Agricultural Sciences, Vietnam |
| Dr. Asad JAN (38) | Analysis of Plant Growth Regulation under Abiotic Stress Conditions | The University of Agriculture, Peshawar, Pakistan |
| | | |
| --- | --- | --- |
| Name(Age) | Title of Research Achievement | Professional Affiliation |
| Dr. Lee Hong TNAH (31) | Timber tracking system of an important Malaysian timber species, Neobalanocarpus heimii (Dipterocarpaceae) using DNA approach | Forest Research Institute Malaysia, Malaysia |
| Dr. Nouhoun BELKO (35) | High throughput phenotyping and selection for drought tolerance in cowpea (Vigna unguiculata L. (Walp.)). | Senegalese Agricultural Research Institute, Burkina Faso |
| Dr. Panuwan CHANTAWANANNKUL (38) | Honey bee pathology and development of beekeeping in Asia | Chiang Mai University, Thailand |
| | | |
| --- | --- | --- |
| Name(Age) | Title of Research Achievement | Professional Affiliation |
| Dr. Sudisha Jogaiah (37) | Antimildew compounds from wood rot fungi and sequence characterized amplified region markers associated with downy mildew disease resistance in pearl millet | University of Mysore, India |
| Ms. Kanokwan Srirattana (30) | Improvement of reproductive biotechnology techniques for livestock and endangered species | Suranaree University of Technology, Thailand |
| Dr. Lijun Yin (40) | Development of technology for quality and functionality improvement of traditional foods, and application of novel emulsifying technology for new processing system | China Agricultural University, China |
Name(Age)
Title of Research Achievement
Professional Affiliation
Dr. Roel Rodriguez Suralta (37)
Significance of root plasticity in maintaining dry matter production in rice under fluctuating soil moisture stresses
Philippine Rice Research Institute (PhilRice), Philippines
Dr. Muhammad Abdul Alim (39)
Study on tick molecular biology with a view to development of novel control strategies for ticks and tick borne diseases
Bangladesh Agricultural University, Bangladesh
Dr. Jonne Rodenburg (36)
Developing socially acceptable weed management strategies
for resource-poor rice farmers
Africa Rice Center, Netherlands
| | | |
| --- | --- | --- |
| Name(Age) | Title of Research Achievement | Professional Affiliation |
| Dr. Dewpura Acharige Lilisiya LEELAMANIE (35) | Experimental study on soil water repellency and its behavior | University of Ruhuna, Sri Lanka |
| Dr. Rattiya WAEONUKUL (31) | Development of multienzyme complexes for the effective degradation of lignocellulosic biomass | King Mongkut's University of Technology, Thonburi (KMUTT), Thailand |
| Dr. Jianbing YAN (34) | Provitamin A biofortification in maize grain | International Maize and Wheat Improvement Center(CIMMYT), China |
| | | |
| --- | --- | --- |
| Name(Age) | Title of Research Achievement | Professional Affiliation |
| Dr. Ma. Junemie Hazel Leonida Lebata-Ramos(37) | Stock enhancement of commercially important and threatened marine invertebrates in tropical areas | Southeast Asian Fisheries Development Center-Aquaculture Department(SEAFDEC/AQC), Philippines |
| Dr. Amos Adeyinka Onasanya(39) | Molecular and pathotyping characterization of blast, rice yellow mottle virus, bacterial leaf blight and African rice gall midge in West Africa | Africa Rice Center (Africa Rice), Benin |
| Dr. Kevin Kit Siong Ng(33) | Spatial structure and impact of logging on genetic diversity of selected tropical tree species | Forest Research Institute Malaysia(FRIM), Malaysia |
| | | |
| --- | --- | --- |
| Name(Age) | Title of Research Achievement | Professional Affiliation |
| Dr. Xiaoyuan Yan(37) | Developing greenhouse gases emission inventories for croplands and evaluating their environmental impacts | Institute of Soil Science, Chinese Academy of Science(ISSCAS), China |
| Ms. Maryam Ambundo Imbumi(29) | African leafy vegetables, promotion and research for improved nutrition, health and incomes | Kenya Resource Centre for Indigenous Knowledge(KENRIK), Kenya |
| Dr. Thuy Thi Thu Nguyen(36) | Application of molecular genetics in aquaculture and fisheries management | Network of Aquaculture Centres in Asia-Pacific(NACA), Thailand |
| | | |
| --- | --- | --- |
| Name(Age) | Title of Research Achievement | Professional Affiliation |
| Dr. Zhengqiang Jiang(36) | Research and application of enzymes in the field of food processing | China Agricultural University(CAU), China |
| Dr. Chalermpol Kirdmanee(39) | Research, development and extension on in vitro selection and mass-propagation for producing high qualitytransplants of medicinal, food and industrial crops | National Center for Genetic Engineering and Biotechnology, Thailand(BIOTEC), Thailand |
| Dr. Jonathan Hosier Crouch(39) | Molecular breeding of main world staples with more recent emphasis on drought-prone environments | International Maize and Wheat Improvement Center(CIMMYT), Mexico |
お問合せ先
Contact Information:
International Reserch
Agriculture, Forestry and Fisheries
Research council Secretariat, Ministry of Agriculture, Forestry, and Fisheries
The persons in charge:Kanamori、Toriumi、Yamamoto、Kuronuma
Telephone:+81-3-3502-8111
Direct Line:+81-3-3502-7466
FAX:+81-03-5511-8788